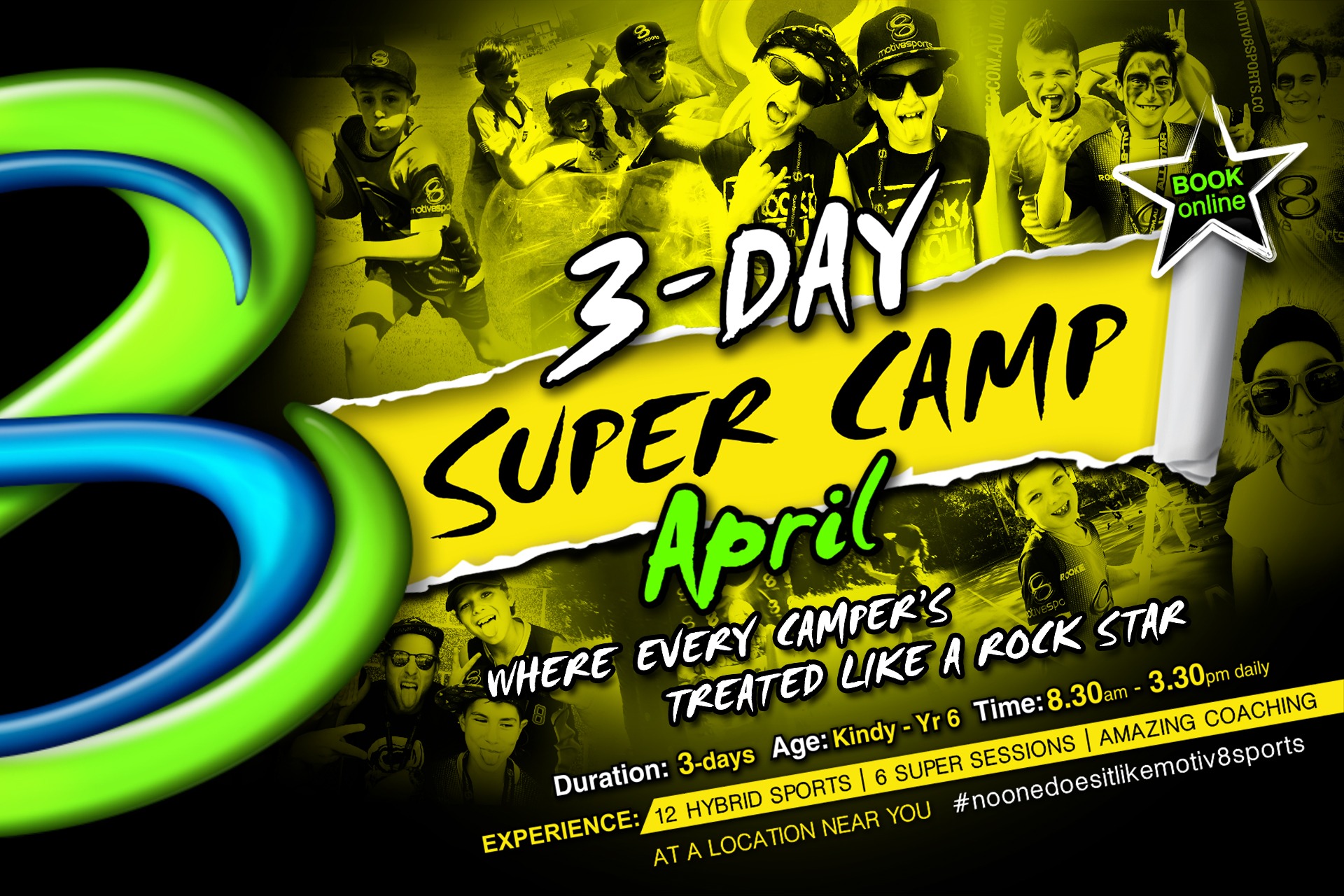 SUPER CAMP – APRIL SCHOOL HOLIDAYS
GET MOTIV8TED during the APRIL School Holiday's at the one and only Motiv8sports SUPER CAMP.
Held only once each year Super Camp is a sports festival designed just for kids.  Way more than a sports dreamland, Super Camp is an energetic mix of sport, music, street culture, art and dance mashed up to create the ultimate school holiday camp for kids who love having fun.  Campers will be treated to an incredible array of our trademark team sports in an environment full of energy, motivation and unbelievable guidance from our professional team of coaches.
With a live DJ pumping the beats and multiple prize giveaways, this is a school holiday activity not to be missed. Our 4 teams THE ROCKERS, PUNKS, HOPPERS & ELECTRO's will do battle to be crowned the Champions of Super Camp.
At all Motiv8sports school holiday camps we use sport as a tool to motivate, inspire, entertain and promote a healthy lifestyle. Motiv8sports is designed for a wide range of skill levels. We avoid activities that involve monotonous drills and skills. We offer high energy experiences where all kids can be part of the action, regardless of their ability. We promote a strong anti-bullying message, encouraging acceptance and inclusion in all we do.
Children attending Motiv8sports Super Camp learn about sport, teamwork and sportsmanship in an environment fuelled by incredible leadership and constant motivation.
Operating for over 17-years Motiv8sports campers keep coming back because no one knows how to entertain like Motiv8sports. At all our holiday camps for kids' campers are treated like superstars and our safety and supervision is second to none. We take sport, modify to ensure maximum participation then turn up the fun to new levels to create our innovative array of trademark sports.
One of our favourite camps of the year, it's something you must experience to believe. We encourage you to check a location near you and book your place today.