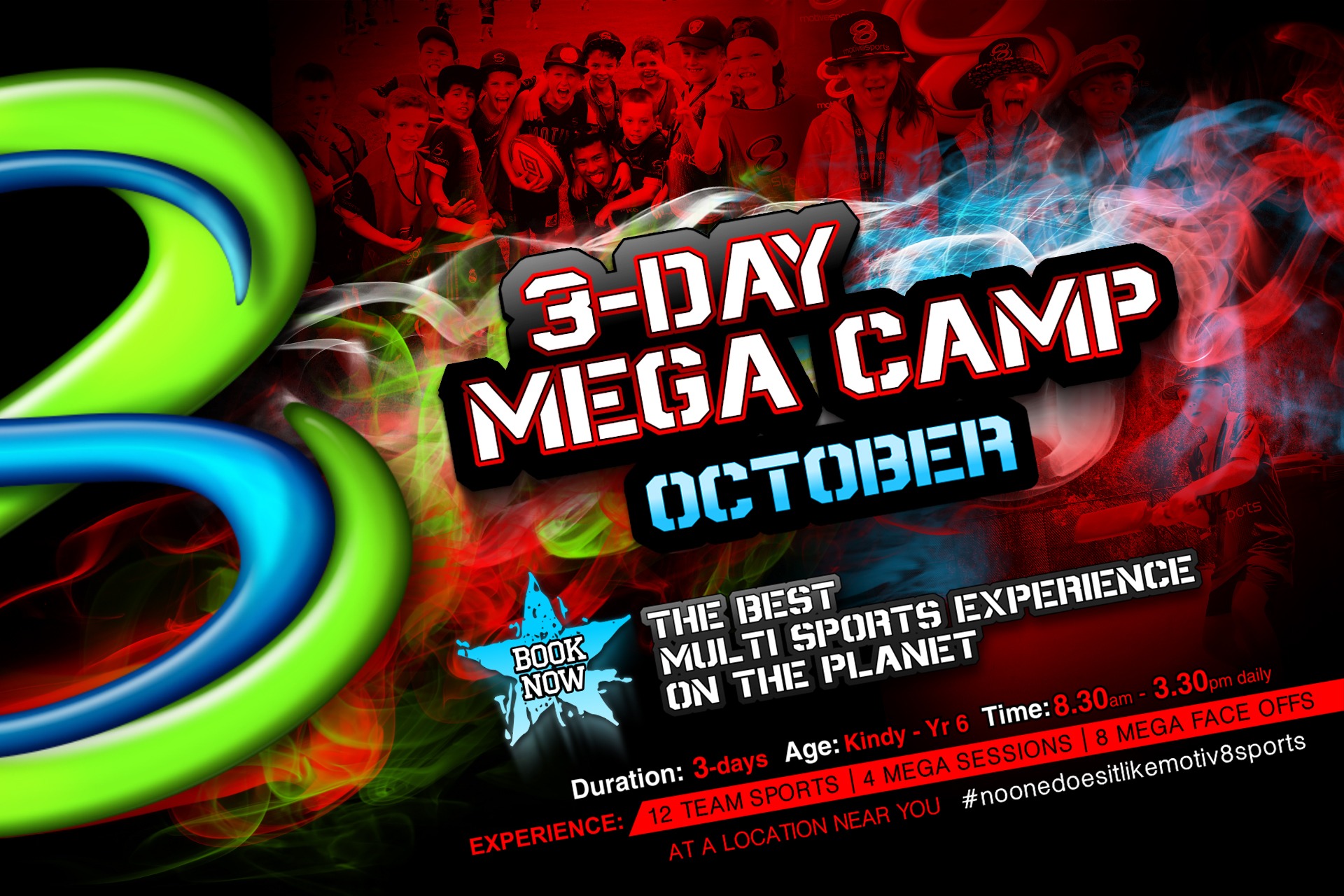 MEGA CAMP – OCTOBER SCHOOL HOLIDAYS
Get MEGA motivated for the ultimate Motiv8sports school holiday multi-sports camp.
Campers who attend Mega Camp will compete for the EAST SIDE ALL STARS, WEST SIDE ROLLERS, SOUTH SIDE SONICS or NORTH SIDE COMMANDO'S – earning points to be crowned Mega Camp champions.
With our trademark array of non-contact sports and team building challenges, this is sure to be the best two days of your school holidays. Mega Camp is only held once a year giving campers a chance to participate in 12 of our hybrid sports and 12 special All-Star Showdowns.
Mega Camp is designed to cater for all sporting abilities with a strong focus on energy and effort rather than sporting capability. Children who attend Motiv8sports school holidays camps learn about teamwork, sportsmanship and resilience in an environment fuelled by great leadership and constant motivation.
Children who have attended our camps over the past 18-years keep coming back because NO ONE DOES IT LIKE MOTIV8SPORTS. Campers are treated like superstars and our safety and supervision is second to none. We take sport and maximum participation to a new level with an innovative array of trademark non-contact sports including Vortex Gridiron, Flag Ball, Super Soccer, 4-Ball, Basketball, Ruccus, 8-Tag, Big Dog Cricket, Bazooka Ball, Ultimate League, Street Hockey and a long list of other cool activities.
All our kids school holiday camps have a reputation for taking traditional sports and modifying them to ensure that every camper enjoys maximum participation while dialling the fun up several notches. Our sessions are filling fast, and you don't want your camper to miss out! Check our locations and book one of our Mega Camps before time runs out​
We hope to see you at MEGA CAMP for a truckload of fun and non-stop action.