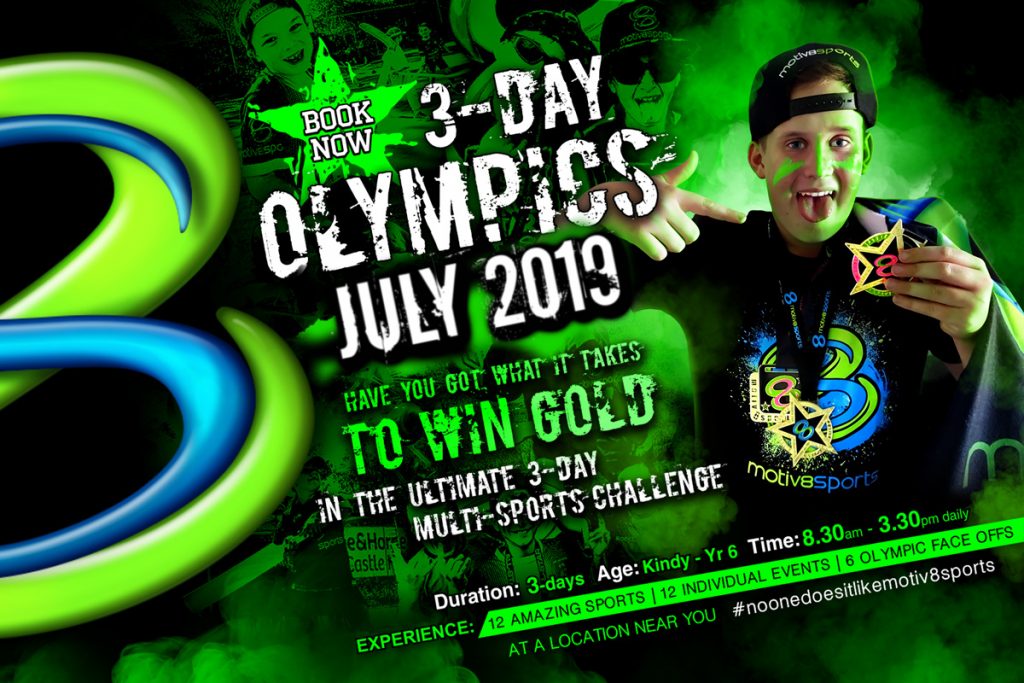 OLYMPICS CAMP – JULY SCHOOL HOLIDAYS

GET MOTIVATED during the July School Holiday's at our 2 or 3 day Olympics Camp.
The Motiv8sports Olympics school holiday camp is the biggest multi-sports event of the year. We compare it to the Ironman World Championships in that we don't give out participation medals however, if you have what it takes to complete all 3-days including 12 team sports, 12 Olympic Individual events and 3 mega sessions then we will be hanging a gigantic finishers medal around your neck.
With a live DJ pumping the beats and multiple prize giveaways, this is a school holiday activity not to be missed. Our campers are representing their designated country and will do battle to be crowned the Olympic champions.
Experience 3 huge days….12 amazing sports, 12 individual events, 6 Olympic Face Offs, incredible coaching, non-stop motivation, unbelievable prizes and possibly an Olympic medal.
​Since 2001 Motiv8sports has performed non-sleepover events aimed at Kindy to Year 6 children. Over 18 years we've built a range of school holiday camps that encourage children to enjoy sport by focusing on building self-esteem, sportsmanship, teamwork and leadership. We create events that motivate children to play, where no one sits on the bench and everyone's treated like a superstar.
At all Motiv8sports school holiday camps for kids our safety and supervision are second to none. We take energy and maximum participation to a new level with our innovative array of Olympic themed sports
Dont miss out! Find your nearest venue and book your place today.