3 Day Motiv8sports Olympics Camp-Muirfield High
July 8th @ 8:30 am - 3:30 pm July 10th
Held only once each year the Motiv8sports Olympics is the heart and soul of our multi-sports calendar year. Campers will be treated to an incredible array of our trademark team sports in an environment full of energy, motiv8tion and unbelievable guidance from our professional team of coaches.
We compare our Motiv8sports Olympics to the IRONMAN WORLD CHAMPIONSHIPS. We don't give out participation medals at any of our events however if you have what it takes to complete all 3-days including 12 x team sports, 12 Olympic Individual events and 3 x mega sessions then we will be hanging that gigantic finishers medal around your neck. We will be creating an atmosphere full of colour, culture, and energy as 12 x countries battle it out to WIN the GOLD MEDAL. Like all Motiv8sports events, there will be music, prizes, crazy competitions, and non-stop entertainment. This event caters to all ability levels and we would love the opportunity to motiv8 your child at our legendary multi-sports camp.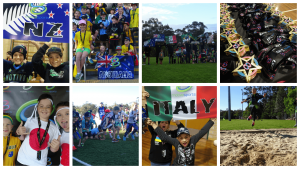 At the 2019 3-day Olympics Camp we have some amazing features including:
12 x TEAM SPORTS  / Street Hockey, Vortex Gridiron, Super Soccer, Ultimate League, Ballers, Big Dog Cricket, Ruckus AFL, 4-BALL Soccer, Bazooka Ball, 8-Down, Sliders & Flagball
12 x OLYMPIC INDIVIDUAL EVENTS  / X-Fitt Games, Aussie Gumboot throw, Sock Slammers, Parachute Racers, Screamers, Bolt, Truck Pull, Command-0 Racers, 50m Hurdle Racers, Bolder Bash, Motiv8 Discus & The Marathon.
At all Motiv8sports events we use sport as a tool to motiv8, inspire, entertain and promote a healthy lifestyle. All camps are 8:30am – 3:30pm daily non-sleep over events. Motiv8sports camps are designed for all abilities and focus on the energy and effort rather than a child's sporting ability. Children attending Motiv8sports Super Camp learn about sport, teamwork & sportsmanship in an environment driven by incredible leadership and constant motivation. Operating for over 18-years Motiv8sports campers keep coming back because no one knows how to entertain like Motiv8sports. Campers are treated like superstars and our safety and supervision is paramount. We take sport, modify to ensure maximum participation then turn up the fun to new levels to create our innovative array of trademark sports.
Don't miss out – book today!
LOOK FORWARD TO INSPIRING YOUR CHILD AT THIS CAMP.
EVENT ORGANIZER
WEBSITE
www.motiv8sports.com.au/franchise/parramatta
EVENT VENUE
Barclay Rd North Rocks NSW , 2151 Australia
Tickets