STUDENT-FREE DAY – Motiv8sports Big Birthday Battle – FRI SEPT 2
September 2, 2022 @ 8:30 am – 3:30 pm
IT'S PARTY TIME!
The Motiv8sports Big Birthday Battle is here! And we are CELEBR8ING…!
Join Motiv8sports and help us celebrate our 4th birthday party on Friday September 2 (pupil-free day). This is becoming the biggest party of the year – just for our members! This is also our GRANDSLAM make-up camp – if you missed one camp during the year and get to this one, it will count as a Grandslam event and keep you in the slam!
The BIG BIRTHDAY BATTLE will see ticket holders take part in a day of cool challenges between TEAM GREEN MACHINE and THE BLUE CREW in the quest to WIN the 2022 M8S CUP.
On Friday 4th of September ticket holders will arrive to a Green & Blue festival style atmosphere, with beats pumping from the DJ booth, to battle it out to win the M8S CUP.
It's our birthday – we're gonna party like it's our birthday!
Epic one-day event: 8.30-3.30pm (like all our events its a no parent stay/drop & go)
Eight cool challenges and battles
Giveaways & prizes throughout the day
Traditional BBQ sausage sizzle for each kid (complimentary snag in bread for each kid)
Field 5 of Kawana Sports Precinct (Sunshine Coast Stadium on Nicklin Way next to Police Station) (In the event of extreme wet weather, venue may change to Mountain Creek)
Prep to Gr 6 kids only
This event is offered exclusively to members first
LIMITED Tickets – these will sell out quickly as we are only having the one event!
We are super pumped to celebr8 our fourth birthday and cannot wait to see all of our Motiv8sports kids!!!
CANCELLATION POLICY
As our events are staffed and catered for based on volume in advance of our event date; tickets are non-refundable. This includes cancellations made due to sickness, or injury (incl. Covid). In some cases, a credit or part thereof may be issued (at our discretion and only if cancellation is made in writing (via email) 72 hours prior to the start time of the event). If a credit is granted, it will be issued less a $30 per ticket cancellation fee.
Refunds will only be offered if an event is postponed (or cancelled) and the ticketholder cannot make the rescheduled event date.
A big thank you to our fabulous local partners: 91.9 SeaFM | Dominos | McGrath Buderim & Mooloolaba
Event Details
start
September 2 @ 8:30am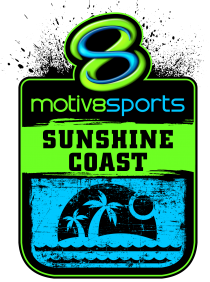 Event Organizer
Phone Number
0412 416 689
Website
http://www.motiv8sports.com.au/franchise/sunshine-coast
Event Venue
Mountain Creek State High School
Lady Musgrave Drv, Mountain Creek, QLD 4557