2 Day MEGA CAMP – Pacific Pines
September 20, 2022 @ 8:30 am – 3:30 pm September 21, 2022
2-DAY MEGA CAMP.. GET MEGA MOTIV8TED!
Join Motiv8sports during the September school holidays and experience Australia's greatest multi-sports event designed for Primary school children. In January we performed Splash City Summer Camp, April gave us Super Camp and in July we hosted the Motiv8sports Olympics. It is now time to get MEGA MOTIV8TED at our legendary MEGA CAMP.
The Mega Camp is held every September/October with our campers split into our 4 x battle teams who will compete for points over 2 days to be crowned champions of the MEGA CAMP CUP. The scene will be set for campers as they are taken to a future sports dreamland where the worlds best sports stars are split into 4 x incredible All Star Nations. Every camper will receive their power wrist band representing one of our 4 ALL STAR NATIONS = NORTHSIDE, EASTSIDE, SOUTHSIDE or the WESTSIDE.
Campers are divided into age appropriate friendship groups for insane sports sessions where all points won during the day go towards their Mega Camp battle teams total score to WIN the MEGA CAMP CUP.
Events are from 8:30am-3:30pm daily (non sleep over) and are designed for Kindy – Year 6 children.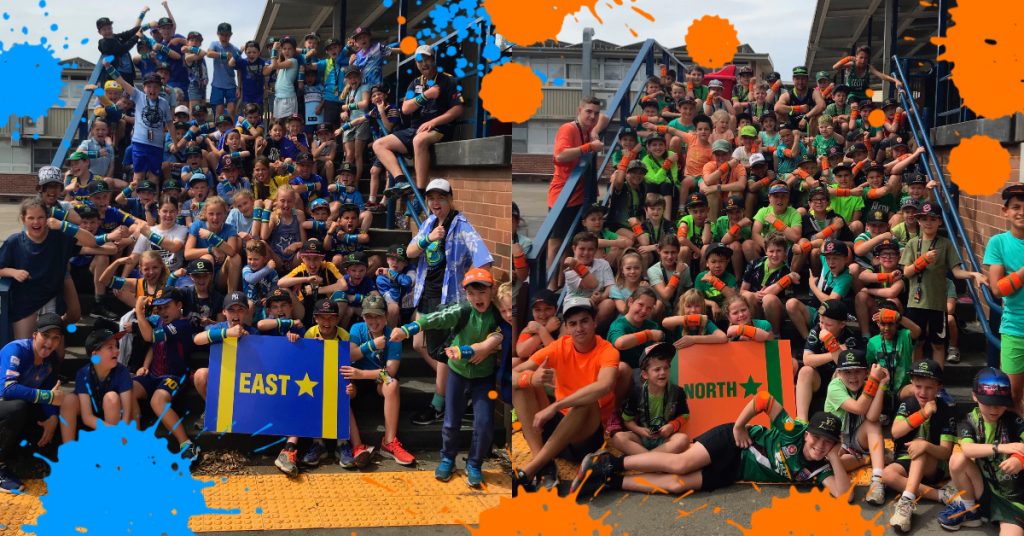 The 2022 MEGA CAMP features:
12 x TEAM SPORTS  / Sector 8 , Courage Under Fire, Street Hockey, Vortex Gridiron, Super Soccer, Ultimate League, Ballers, Big Dog Cricket, Ruckus AFL, 4-BALL Soccer, Bazooka Ball, 8-Down, Sliders & Flagball
4 x MEGA BATTLES  / World famous team challenges where campers compete for their NORTH, SOUTH, EAST & WEST teams for points and prizes.
CAMP D.J, LEGENDARY COACHING CREW, DANCE OFFS, WAR CRYS & MEGA CHEER SQUAD / At Mega Camp we take things to a new level with our very own D.J pumping beats, huge array of activities and entertainment to pump up the atmosphere.
"I can't rate Motiv8sports highly enough. They ran the most professional, well organised and fun school holiday activity I have ever encountered, only to be outdone by responsiveness and communication of the staff." Janine C
At all Motiv8sports events we use sport as a tool to motivate, inspire, entertain and promote a healthy lifestyle. All camps are 8:30am – 3:30pm daily non-sleep over events. Motiv8sports camps are designed for all abilities and focus on the energy and effort rather than a child's sporting ability. Children attending Motiv8sports Super Camp learn about sport, teamwork and sportsmanship in an environment driven by incredible leadership and constant motivation. Operating for over 18-years Motiv8sports campers keep coming back because no one knows how to entertain like Motiv8sports. Campers are treated like superstars and our safety and supervision is second to none. We take sport, modify to ensure maximum participation then turn up the fun to new levels to create our innovative array of trademark sports.
Don't miss out – book today!
"Excellent, professional, well-run & so fun for the kids. They were so keen to go each day and came home happy and tired – thank you!" Olivia L
**No free passes
Event Details
start
September 20 @ 8:30am
end
September 21 @ 3:30pm
Event Organizer
Website
https://motiv8sports.com.au/locations/gold-coast-north/
Event Venue
Pacific Pines State High School
15 Archipelago Street, Pacific Pines, QLD 4211