2 Day Mega Camp 2 – La Perouse Public School
October 6, 2022 @ 8:30 am – 3:30 pm October 7, 2022
2-DAY MEGA CAMP… GET MEGA MOTIV8TED!
Get Mega Motiv8ted during the September / October school holidays at the Motiv8sports Mega Camp. Mega Camp is held every September/October with our campers being divided into 4 x battle teams who will compete for points over two days to be crowned champions of the MEGA CAMP CUP. Every camper will receive their power wrist band representing the NORTH SIDE, EAST SIDE, SOUTH SIDE & WEST SIDE. Campers are assigned into age appropriate friendship groups for our 12 insane sports sessions with all points won during the day going towards their battle teams total score.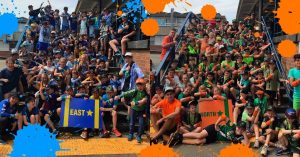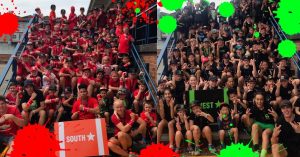 At the 2022 2-day MEGA CAMP we have some amazing features including:
12 x TEAM SPORTS / Street Hockey, Vortex Gridiron, Super Soccer, Ultimate League, Sector 8, Big Dog Cricket, Ruckus AFL, 4-BALL Soccer, Bazooka Ball, 8-Down, Sliders & Flagball
4 x MEGA BATTLES / World famous team challenges where campers compete for their NORTH, SOUTH, EAST & WEST teams for points and prizes.
CAMP D.J, LEGENDARY COACHING CREW, DANCE OFFS, WAR CRYS & MEGA CHEER SQUAD / At Mega Camp we take things to a new level with our very own D.J pumping beats, huge array of activities and entertainment to pump up the atmosphere. Plus a PIZZA lunch on day 2!!!
At all Motiv8sports events we use sport as a tool to motivate, inspire, entertain and promote a healthy lifestyle. All camps are 8:30am – 3:30pm daily non-sleep over events. Motiv8sports camps are designed for all abilities and focus on the energy and effort rather than a child's sporting ability. Children attending Motiv8sports Super Camp learn about sport, teamwork and sportsmanship in an environment driven by incredible leadership and constant motivation. Operating for over 21-years Motiv8sports campers keep coming back because no one knows how to entertain like Motiv8sports. Campers are treated like superstars and our safety and supervision is second to none. We take sport, modify to ensure maximum participation then turn up the fun to new levels to create our innovative array of trademark sports.
Don't miss out – book today!
My Son had THE BEST 2 days, he can't stop talking about it! Thanks to all the coaches, such an awesome team. Tania O
At all Motiv8sports Camps we design our sports for all abilities and focus on the energy and effort rather than a child's sporting ability. Children who attend Motiv8sports Camps learn about sport, teamwork & sportsmanship in an environment fueled by great leadership and constant motivation.
8:30am-3:30pm daily
For ages Kindy to Year 6
Don't miss out – book today!
Thank you guys. Seriously amazing Camp. It was Rey's first time and here is to plenty more. Staff were beyond amazing. Felt so happy trusting you guys with my only son. Keep up all the hard work. You guys rock! Marelyn. S
COVID-19 Compliance – all Motiv8sports events adhere to strict Covid-19 compliance requirements. Detailed communication will be provided to all bookings prior to event commencement. For the full scope of measures being implemented please visit our Covid-19 information page https://motiv8sports.com.au/guidelines-on-covid-19-corona-virus/
#noonedoesitlikemotiv8sports
Don't miss out! Book your place today.
My 2 girls really enjoyed their 2 days participating in all the activities and sports. Thanks to all the coaches, they cannot wait for the next one. Highly Recommend. Belinda K
Creative Kids Vouchers Accepted
Creativity is a vital part of all Motiv8sports holiday programs providing campers with a chance to express themselves in a safe, supportive environment. Our expert coaches help showcase creative skills through activities such as dance, singing, choreography, visual arts and song writing. Our creative outlets provide a great opportunity for children to take a break from organised sports and express themselves through different mediums. At our Olympics themed event campers get an amazing opportunity to share dance, song and cultural elements from a range of countries represented.
EVERY PERSON WHO BOOKS IN TO OUR MEGA CAMP, GOES IN THE DRAW TO WIN AN AMAZING BUMPBOX!!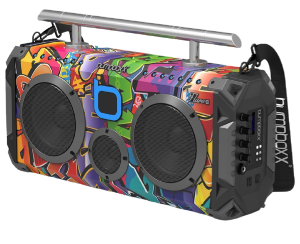 Motiv8sports Eastern Suburbs is giving every Camper who books the chance to go into the draw to win a Boombox valued at $499. For your chance to WIN, Simply secure a Mega Camp ticket, and every ticket holder will go into the draw to win this AMAZING prize. The lucky winner's name will be drawn and announced during the Closing Ceremony of our final Mega Camp 2022!!!
Event Venue
8-18 Yarra Road, Phillip Bay, NSW 2036