Splash City NORTH – 12 & 13 January (Cooroy)
January 12, 2023 @ 8:30 am – 3:30 pm January 13, 2023
SPLASH CITY CLASSIC IS HERE BABY!!!!
The wettest, wildest, most insane camp of the holidays!
Splash City is the biggest and best sports camp of the year; to kick off the year!
Splash City is a sports festival like no other – 2 days of epic hybrid (mash-up) sports by our wicked coaching crew, challenges, prizes, giveaways and of course music from the DJ tent all with some water mixed in to keep cool! The vibes are cool and it is the BEST way to round out the school holidays before school goes back! Highly coveted tickets that often sell out (great Xmas gift idea too!).
Motiv8sports Summer Camp 'Splash City' sees a 2-day timetable rotation of our cool signature sports – all with a splash of water:
sponge wars
water bazooka battles
slip 'n slide
The awesome water wars FACE OFF
wet n wild races
hybrid sports
insane prizes
the best coaching on the planet
creative outlets, coaches shootout
and much, much more…..
HOW IT WORKS:
For two days we run a timetable that sees the kids rotate through all of our fabulous sports stations set up on the field (and in undercover areas/gymnasiums). The kids are put into groups on day one (with other kids from the same grade) and they stay in that group (roll calls taken multiple times a day) and rotate for the two days – plus we squeeze in a whole lot of other epic showdowns and challenges in between!
HOW TO BOOK:
It's easy – book your tickets online by clicking below (new members will need to create an account and enter their child's details, just follow the prompts)
All camps are 8:30am-3:30pm daily (non-sleepover events)
Parents drop-off and pick-up children, and do not stay at events (we take security and safety very seriously!)
Just like they're going off to school, kids bring a bag with packed lunch, water bottle and hat!
You will get more info emailed prior to the event with further info (canx policy below).
PREPPIES: Child heading into prep in 2023? Yes, they can attend (feel free to call us on 0412416689 if you'd like to further discuss).
HO HO HO…..GOT TICKETS TO OUR VIP XMAS CAMP YET? 
One day of festivities right before Xmas! The biggest day of the year…!
CANCELLATION POLICY
As our events are staffed and catered for based on volume in advance of our event date; tickets are non-refundable. This includes cancellations made due to sickness (incl Covid), or injury. In some cases, a credit or part thereof may be issued (at our discretion and only if cancellation is made in writing (via email) 72 hours prior to the start time of the event). If a credit is granted, it will be issued less a $30 per ticket cancellation fee.
Refunds will only be offered if an event is postponed (or cancelled) and the ticketholder cannot make the rescheduled event date.
A big thank you to our fabulous local partners: 91.9 SeaFM | Dominos | McGrath Buderim & Mooloolaba
Event Details
start
January 12 @ 8:30am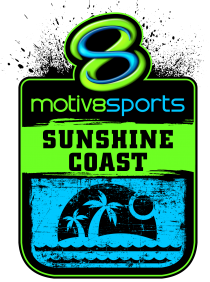 Event Organizer
Phone Number
0412 416 689
Website
http://www.motiv8sports.com.au/franchise/sunshine-coast
Event Venue
Noosa District High School
Tulip Street, Cooroy, Qld