#1 SUPER CAMP SPORTS FESTIVAL @ BISHOP TYRRELL ANGLICAN COLLEGE
April 12, 2023 @ 8:30 am – 3:30 pm April 13, 2023
Join Motiv8sports during the April school holidays and experience Australia's no.1 multi sports camp. Campers will receive their very own Motiv8sports team jersey, experience over 8 non-contact team sports and 8 innovative showdowns. Held only once each year Super Camp is a sports festival designed just for kids. Super Camp is an energetic mix of sport, music, street culture, art and dance mashed up to create the ultimate atmosphere for kids who love having fun and expressing themselves. Campers will be treated to an incredible array of our trademark team sports in an environment full of energy, motiv8tion and unbelievable guidance from our professional team of coaches.
Super Camp is a sports camp that is more like a music festival for kids with a live DJ pumping the beats and multiple prize giveaways. This is an event not to be missed as our 4 teams THE ROCKERS, PUNKS, HOPPERS & ELECTRO's will do battle to be crowned the Champions of Super Camp 2023.
Motiv8sports Camps are designed for all abilities and focus on the energy and effort rather than a child's sporting or creative ability. Children who attend Motiv8sports Camps learn about sport, culture, creativity, teamwork & sportsmanship in an environment fuelled by great leadership and constant motivation. Creativity and originality is a vital element of all we do with multiple creative outlets provided throughout each camp.
Operating for over 22-years Motiv8sports campers keep coming back because no one knows how to entertain like Motiv8sports. Children attending our camps are treated like superstars and our safety /supervision is second to none. We take sport, creativity and maximum participation to new levels with our innovative array of trademark sports and creative activities. All camps are 8:30am – 3:30pm daily non-sleep over events. Motiv8sports camps are designed for all abilities and focus on the energy and effort rather than a child's sporting ability.
Each camper will also have the chance to win prizes, trophies and points for the team as they attempt to win the Super Camp Championship. Please take the time to visit our facebook page and see for yourself that we are experts in sports education and entertainment. We have access to world class training, guidance and assistance from Motiv8sports Australia.
Don't miss out – book today!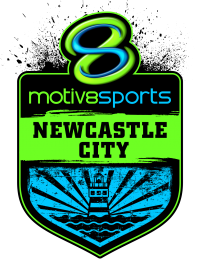 Event Organizer
Website
www.motiv8sports.com.au/franchise/newcastle
Event Venue
Bishop Tyrrell Anglican College
256 Minmi Road, Fletcher , NSW 2287