THE MOTIV8 GAMES (3 & 4 JULY) – Concord High School #1
July 3, 2023 @ 8:30 am – 3:30 pm July 4, 2023
The MOTIV8 GAMES are coming and it's time to go for GOLD!!!
The Motiv8 Games is a futuristic version of the Olympics with a rock concert atmosphere. Held only once a year, this multi-sports event provides Campers with the opportunity to participate in a variety of team sports, individual events, epic showdowns and crazy team building challenges. Like all Motiv8sports events, our primary focus is to create a sporting arena that teaches children about kindness, respect, sportsmanship and resilience, whilst motivating them to be an extraordinary version of themselves.
With unbelievable guidance from our professional Team of Coaches, Campers are treated like rockstars in an environment fuelled with energy. They participate in friendly competition, with bucket loads of fun and entertainment.
"  I can't rate Motiv8sports highly enough.  They ran the most professional, well organised and fun school holiday activity I have ever encountered.  "  –  Janine C.
Campers are assigned to 1 of 4 Teams at the start of Day 1 – BRAZIL, ITALY, JAPAN or SWEDEN. Over the course of 2 days, Campers represent their allocated country, earning points towards their overall Team tally.
Campers will participate in 8 incredible sporting and creative components:
(1) Future Sports
(2) Eliminators
(3) Tour De Force
(4) The Octathlon
(5) The Colosseum
(6) Copa America
(7) Hour Of Power
(8) Showdown City
With our live DJ pumping the beats and multiple prize giveaways, this is an event not to be missed!
"  I haven't seen kids having that much fun in a long time!  "  –  Mr Victor Newby (Principal, Concord High School)
The Motiv8 Games is designed for primary school aged kids. No previous sporting experience is necessary. Although we encourage a competitive mindset, we never stop teaching Campers about our Motiv8sports values.
At Motiv8sports, safety and supervision is our number one priority. We take sport, creativity and maximum participation to new levels with our innovative and unique array of trademark sports and creative activities.  All Camps are non-sleepover events.
Ages:   Kindy to Year 6
Daily:  8:30am – 3:30pm
​Don't miss out – book today!!!
"  Honestly, this has been our first time and only wish we knew about it sooner.  What an amazing few days for my kids!  They are already asking to make sure I book them in every time you have these running.  Well done Team Motiv8 and thank you!!!  "  –  Elena M.
Creative Kids Vouchers Accepted
Creativity is a vital part of all Motiv8sports holiday programs providing campers with a chance to express themselves in a safe, supportive environment.  Our expert coaches help showcase creative skills through activities such as dance, singing, choreography, visual arts and song writing.  Our creative outlets provide a great opportunity for children to take a break from organised sports and express themselves through different mediums.  At our music themed event campers get an amazing opportunity to share dance, song and cultural elements from a unique street/surf perspective. To claim your voucher visit – https://www.service.nsw.gov.au/transaction/apply-creative-kids-voucher
Cancellation Policy
Cancellation for injury, illness or change of mind must be notified prior to the commencement of the event.  A Camp Credit (to the value of the booking price) will be allocated to your Motiv8sports Account.  No credits will be issued for only one day of attendance, as venue hire, staffing requirements and other associated costs are determined prior to the event.  We thank you for your understanding.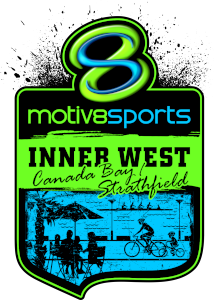 Event Organizer
Phone Number
0413 881 090
Website
https://motiv8sports.com.au/locations/inner-west-canadabay-strathfield/
Event Venue
3 Stanley Street,, Concord, NSW 2134