THE MOTIV8 GAMES 2 DAY CAMP – 10 & 11 JULY- ELS HALL PARK, NORTH RYDE ***SOLD OUT!****
July 10, 2023 @ 8:15 am – 3:30 am July 11, 2023
THE MOTIV8 GAMES are held only once every year and provide campers from across Australia the chance to win Gold. The Motiv8 Games is a futuristic version of the Olympics with a rock concert style atmosphere. This 2-day multi-sports event will give campers the opportunity to participate in a long list of team sports, individual events, showdowns and team building challenges. Like all Motiv8sports events our primary focus will be to create a sporting arena that allows us to teach children about teamwork, sportsmanship and resilience all while motivating them to be extraordinary versions of themselves.
Campers will be assigned one of these four countries at the start of day 1. Over the course of 2-days campers will represent their allocated country earn!
The Motiv8 Games is designed for Kindy to Year 6 students and no previous sports experience is required. Each camper will be treated like a superstar and although we encourage a competitive mindset we never stop teaching our campers about our Motiv8sports values. Children attending our camps are treated like superstars and our safety /supervision is second to none. We take sport, creativity and maximum participation to new levels with our innovative array of trademark sports and creative activities. We pride ourselves in including each and every individual but please understand we are not staffed for one-on-one care. If your child requires additional support, we welcome carers to join us but would appreciate for you to communicate with us prior to camp.
Each camper will also have the chance to win prizes, medals and points for the team as they attempt to win the Motiv8 Games.
Please take the time to visit www.motiv8sports.com.au and see for yourself that we are experts in sports education and entertainment.
Don't miss out – The Games are coming and it's time to chase Gold.
8:30am-3:30pm daily (non-sleepover)
For ages Kindy to Year 6
Don't miss out – book today!
My kids have just had the most amazing two days! The enthusiasm, teamwork and sportsmanship is incredible. We can't wait to come back next holidays! Chris
COVID-19 Compliance – all Motiv8sports events adhere to strict Covid-19 compliance requirements. Detailed communication will be provided to all bookings prior to event commencement. For the full scope of measures being implemented please visit our Covid-19 information page https://motiv8sports.com.au/guidelines-on-covid-19-corona-virus/
#noonedoesitlikemotiv8sports
Don't miss out! Book your place today.
Creative Kids Vouchers Accepted
Creativity is a vital part of all Motiv8sports holiday programs providing campers with a chance to express themselves in a safe, supportive environment. Our expert coaches help showcase creative skills through activities such as dance, singing, choreography, visual arts and song writing. Our creative outlets provide a great opportunity for children to take a break from organised sports and express themselves through different mediums. At our Olympics themed event campers get an amazing opportunity to share dance, song and cultural elements from a range of countries represented.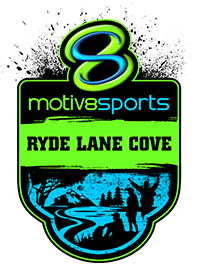 Event Organizer
Website
https://motiv8sports.com.au/locations/ryde-lane-cove/
Event Venue
ELS Hall Park/ Ryde Community Sports Centre
109 Kent Road, North Ryde, NSW 2113