BIG BATTLE School Holidays Camp North – 25 & 26 SEPT (Noosaville)
September 25, 2023 @ 8:30 am – 3:30 pm September 26, 2023
HERE COMES…THE BIG BATTLE!
2 TRIBES – 1 WINNER
The Big Battle sports camp rolls out around the Coast these September school holidays; comprising two epic fun-filled days for primary school kids with camps in Noosa, Mountain Creek & Caloundra.
We love to turn traditional sports upside down and the Big Battle is no exception! At the Big Battle, kids will get amongst our signature hybrid sports (and new challenges – see below!) while representing one of two tribes: the Bravehearts or the Goliaths.
Over 2 days and 9 sessions tribes will battle against each other in 16 incredible sports challenges. Super Soccer, Vortex Gridiron, Sector-8, Flagball, Big Dog Cricket, Ultimate League, Ruckus, Street Hockey, Ballers, The Grid, Raiders & Courage Under Fire are just some of the exciting sports included in the program.
On the final day old clothing will be needed to take part in the coolest challenge we have ever created. This optional activity called Battle Grounds is a 90 minute finale including slime slides, coloured powder, water bombs and never before seen challenges. As mentioned this is an optional (non-compulsory) component of our event for kids who love to get messy.
First time for us attending and hands down the Absolute best money I've spent. My boys 9 & 5 couldn't stop raving on about how much fun they had and how nice the coaches all were to them and they were so much fun! Such an awesome group of people to look up to. You guys do such an amazing job and we won't ever miss a chance to hang out with you all! Thank you!! Carly G.
HOW IT WORKS: Each bearing a different theme, our multi-sports camps run every school holidays for 2 days between the hours of 8.30am to 3.30pm daily (drop off and pick up – parents don't stay). Our school holiday camps (non-sleepover) are a street-culture meets sports-festival fusion where the the kids participate in our hybrid/mash-up sports while we pump the music from the DJ booth and enjoy coaches challenges, music, and non-stop fun, all whilst earning points for their allocated team (with the winning team getting announced at conclusion of camp).
Our hybrid sports are specifically designed for all abilities and focus on the energy and effort more than a child's sporting prowess. Children who attend Motiv8sports Camps get inspired about teamwork & sportsmanship in an environment fuelled by great leadership and constant motiv8ion. All Motiv8sports campers are treated like superstars and our safety /supervision is second to none.
Price is for both days (individual day tickets are not available).
Have more questions? Check our FAQS or send us an email: [email protected] (0412 416 689).
(Want to see more? Check out our Motiv8sports Sunshine Coast FB page to watch videos from previous camps and read reviews!)
Dont miss out! Some locations sell out quickly. Tell your mates & book your place today.
Cancelling: If you need to cancel your tickets we need your cancellation in writing ([email protected]). Please note, a credit will be issued less a cancellation fee (cancellation fee waived if 72+hours given). Refunds will only be offered if an event is postponed (or cancelled) by us and the ticketholder cannot make the rescheduled event date.
A big thank you to our fabulous local partners: 91.9 SeaFM | Protector Al | McGrath Buderim & Mooloolaba
Event Details
start
September 25 @ 8:30am
end
September 26 @ 3:30pm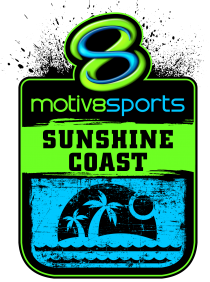 Event Organizer
Phone Number
0412 416 689
Website
http://www.motiv8sports.com.au/franchise/sunshine-coast
Event Venue
Good Shepherd Lutheran College
115 Eumundi Road, Noosaville, Qld