August – Private Birthday Party
August 29, 2021 @ 1:00 pm – 3:00 pm
A Motiv8sports Private Birthday Party is designed for families who would like to host a sports party at a venue of their choice. Although we provide a Super Sunday Party option each month Motiv8sports also recognises that this option does not always suit everyone. At a Motiv8sports Private Party the family choose their own venue (local park, oval or indoor facility) and our Motiv8sports Coach comes to you to run the most amazing 2-hour sports party on the planet.
HOW DOES IT WORK?
STEP 1 = Make your booking online. In the notes section please put your preferred date and location/potential location
STEP 2 = The Parent decides on their location / wet weather back up plan etc etc.
STEP 3 = Once you have made your booking online we will email you a confirmation package and post your invitations package.
STEP 4 = We will assign you your very own Motiv8sports Coach who will run your party.
STEP 5 = We will communicate with you the week before your party to ensure all details are correct.
STEP 6= Motiv8sports will arrive at your party with all of the gear approx 40 mins prior to your party to set up.
STEP 7 = Motiv8sports will perform the most amazing 2 hour sports party on the planet.
THE $550 PRIVATE PACKAGE:
~ 2 x Motiv8sports Coaches running your party
~ Custom Invites pack
~ 2-hour event
~ Up to 22 guests
~ Birthday child receives a Motiv8sports Hat and their choice of Sporting gift (Football, Soccer ball etc)
~ Motiv8sports will design your party based on sports that your child likes.
~ 6 x Pizza's
PLEASE NOTE THE FOLLOWING:
Parents supply their own food.
Parents book their own venue or use a local park usually not requiring a booking
Although it is a 2-hour party our Coach will spend 4 to 5 hours in total packing, transporting and setting up equipment.
Call or email Coach Matt (Party Director) 0423 694 777 or [email protected]
Don't hesitate calling us for more information.
Please note that we only do the PIZZA and photos at our Super Sunday group parties.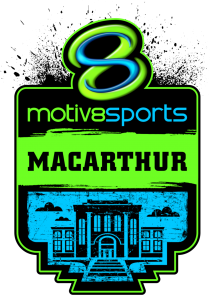 Event Organizer
Website
www.motiv8sports.com.au/franchise/macarthur
Event Venue
Central Avenue, Oran Park , NSW 2570