Join the Motiv8sports Coaching Crew every THURSDAY afternoon at CHISHOLM CATHOLIC SCHOOL in TERM 2, 2021!
****WE ARE 3 WEEK INTO THE PROGRAM, BUT WE ARE STILL ACCEPTING NEW ENROLEMENTS*****
USE YOUR 2021 ACTIVE KIDS VOUCHER- 8 WEEKS FOR FREE!
starting 29th April- 17th June 2021
Every THURSDAY afternoon we will arrive on school grounds to set up an amazing afternoon of sport. As soon as the school bell sounds our team will be waiting with an elbow bump, big smile and fully planned afternoon of entertainment. This clinic is specially designed for the children of Chisholm School and parents can relax knowing that everything takes place on school grounds. Our event is designed to motiv8, encourage, build resilience and inspire children to be successful.  Our 8 week event represents awesome value and over the course of the program your child will experience: Super Soccer, Ultimate League, Vortex Gridiron, Ballers, Street Hockey, Rope Wars, Bazooka Ball, Flagball, 8-Down, Command-0 and a long list of other cool non-contact sports.
We use sport as a tool to grow confidence, self-esteem, resilience, determination, and fitness. As a coaching team we have all completed our first aid training, working with children checks, constant training and most importantly we LOVE coaching kids. We look forward to motiv8ing the Chisholm children in Term 2.
Please contact Kylie on 0414 891 802 if you have any questions
ACTIVE KIDS VOUCHERS are accepted here. This government subsidy covers your entire term of Motiv8sports!!
To use this please select the active kids voucher ticket option and enter your voucher number in the required field!
Don't forget that Motiv8sports is registered for ACTIVE KIDS VOUCHERS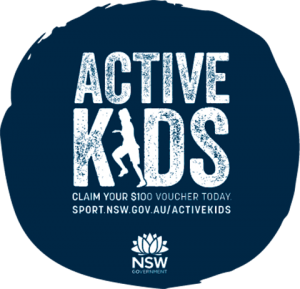 TO REGISTER:
STEP 1: LOGIN to your account or CREATE AN ACCOUNT
STEP 2: If you would like to redeem and use your ACTIVE KIDS VOUCHER follow this link https://www.service.nsw.gov.au/transaction/apply-active-kids-voucher
STEP 3: Select your ticket – ALL NEW MEMBERS RECEIVE A FREE Motiv8sports JERSEY
STEP 4: Complete the registration and pay online
STEP 5: 1-week prior to the event commencing Motiv8sports will email an event information pack
STEP 6: At week 1 of clinic you will be made to feel welcome by the Motiv8sports coaching crew and given your team jersey
STEP 7: Enjoy the 8-weeks
STEP 8: If you leave any items at clinic or need to discuss any issues regarding clinic please call Kylie 0414 891 802