Motiv8sports 4 on 4 FSL Nationals
January 1, 2021 @ 8:30 am – 3:00 pm
Its time to represent the Northern Beaches at the National Championship!
This event has been designed for teams that finished in the top four of the 2020 4 on 4 Football Street League tournaments and is by invitation only.
STEP 1: Grab your teammates and make sure they all available on the 11th of January, 2021. If any of your team are unavailable you are able to submit a substitute player.
AGE DIVISIONS for Nationals are:
JUNIOR 6/7 YRS OF AGE
ELITE 8/9 YRS OF AGE
PRO 10/11 YRS OF AGE
LEGENDS 12/13 YRS OF AGE
STEP 2: BOOK YOUR TEAM IN
Once you have confirmed your team of 4  one parent will need to act as the team Captain and complete the online booking. The parent who is making the team booking will only be charged for their son/daughters $60 registration fee (this fee includes a full days activities, trophies and prizes).
STEP 3: CONFIRMATION
Once you have booked your team into the event you will receive a confirmation email including a registration link for your 3 x other players and event schedule.
STEP 4: EVENT INFO PACKAGE:
Usually 1-week prior to the event we email all competitors an information package with event schedule, location map, what to bring list etc etc.
PLEASE NOTE – this year the nationals are being hosted by the Motiv8sports Hills location. The event will be held at Russell Reserve, Rouse Hill. We will ask for expressions of interest to provide a minibus from a central beaches location to and from the event for all competitors.
Please include in the notes section of your registration form if you would be interested in a FREE minibus service for your camper.
Lets do this legends and rep the Beaches!!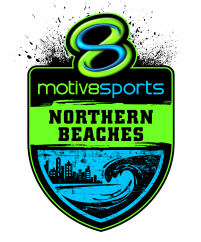 Event Organizer
Website
http://www.motiv8sports.com.au/locations/northernbeaches
Event Venue
Withers Rd, Rouse Hill, Nsw 2156