SPLASH CITY SUMMER CAMP – Narrabeen High School 24&25 Jan
January 24, 2024 @ 8:15 am – 3:30 pm January 25, 2024
SPLASH CITY SUMMER CAMP – the wettest, wildest, most insane camp of the holidays!
Join us for our 2-day SPLASH CITY SUMMER CAMP and give your son/daughter one of the best experiences available. Let us bring the beach to you with our WILD WATER sports and activities.
Campers experience our usual trademark sports plus have the opportunity to express themselves creatively in dance, choreography, visual arts and song writing activities via our war cry and mega sessions. And of course, each afternoon is jam packed with wet & wild sports sure to cool campers down during summer.
Motiv8sports Camps are designed for all abilities and focus on the energy and effort rather than a child's sporting or creative ability. Children who attend Motiv8sports Camps learn about sport, culture, creativity, teamwork & sportsmanship in an environment fuelled by great leadership and constant motivation. Creativity and originality is a vital element of all we do with multiple creative outlets provided throughout each camp.
Children attending Motiv8sports camps are treated like superstars and our safety /supervision is second to none. We take sport, creativity and maximum participation to new levels with our innovative array of trademark sports and creative activities.
Children who attend SUMMER CAMP will experience multiple non-contact team sports sessions, creative expression activities as well as out of this world entertainment / SPLASH CITY sessions.
Don't miss out – book today!
My kids have just had the most amazing two days! The enthusiasm, teamwork and sportsmanship is incredible. We can't wait to come back next holidays! Rachel.H
8:30am-3:30pm daily
For ages Kindy to Year 6
Only at Motiv8sports Summer Camp;
The awesome water wars FACE OFF
the best coaching on the planet
I can't rate Motiv8sports highly enough. They ran the most professional, well organised and fun school holiday activity I have ever encountered. Janine.C
Active Kids Vouchers Accepted
ACTIVE KIDS VOUCHERS are accepted here. To use your $50 voucher (expires 31 Jan 2024) please select the Active Kids Voucher ticket option and enter your voucher number in the required field.
If you would like to claim your ACTIVE KIDS VOUCHER follow this link https://www.service.nsw.gov.au/transaction/apply-for-an-active-kids-voucher
Event Details
start
January 24 @ 8:15am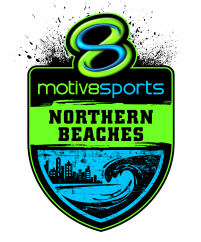 Event Organizer
Website
http://www.motiv8sports.com.au/locations/northernbeaches
Event Venue
Narabeen Sports High School
10 Namona St, North Narrabeen, NSW 2101